ICRS Webinar Series 2021: Case-Based Roundtable – Managing the Spectrum of Articular Cartilage and Meniscal Deficiency
May 15th, 2021
Time: 10:00 am CDT
ICRS is hosting a series of free Zoom webinars on several hot topics in cartilage & joint regeneration between April and September 2021!
The Case-Based Roundtable – Managing the Spectrum of Articular Cartilage and Meniscal Deficiency webinar will be hosted by Dr. Brian Cole with the following speakers and presentations.
Marrow Stimulation and Revision Treatment, Brian Cole (US)
Managing the Patient with Patellofemoral Articular Cartilage Loss, Jack Farr (US)
Managing the Patient with Articular Cartilage Loss, Malalignment and Meniscal Deficiency, Andreas Gomoll (US)
The registration system for the respective events will open 1 month prior to the date of each session and is free of charge for interested participants. A registration is required to watch live or on-demand after the event. For updated webinar schedules & registration please visit https://cartilage.org/webinarseries2021/
Webinar Information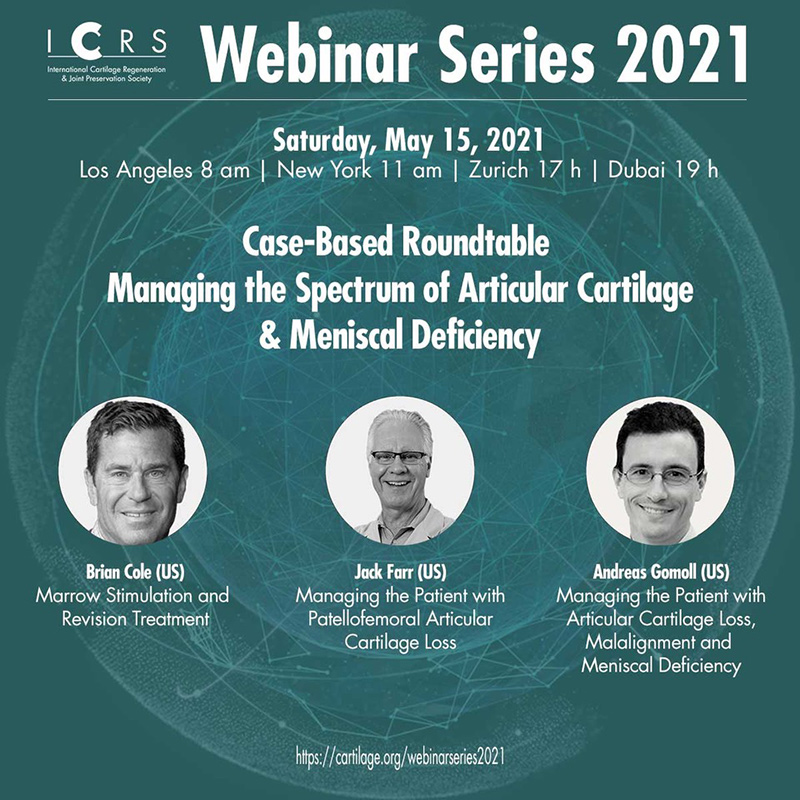 Sports Medicine Cases and Controversies AAOS/AOSSM/AANA Webinar
February 2nd, 2021
Time: 7:15 to 8:30 pm CT
Registration is free for AAOS, AOSSM, and AANA members! Visit aaos.org/SportsMedWebinar
Led by course directors of the popular Annual Sports Medicine Course, this interactive webinar will feature case-based discussions on the most highly-rated course topics. A panel of leading experts will weigh in on three challenging cases, covering:
Management of the irreparable rotator cuff tear
Revision ACL decision-making and treatment
Rehabilitation options following ACL reconstruction
Dedicated time for Q&A between cases makes for an engaging and lively discussion with faculty of the course that sells out every year. Plus, be the first to secure your spot for the 22nd Annual Sports Medicine Course, taking place in Park City, UT in February 2-6, 2022! Don't miss out on the first chance to reserve a 6′ exhibit table at the event. Exhibitor registration opens here on the day of the 2021 webinar – February 2, 2021. Exhibit space is limited and is expected to sell out!
Orthobiologics in the Real World- AOSSM Surgical Skills Course
April 17–18, 2020
Rosemont, IL
Join AOSSM for this interactive CME course focused entirely on orthobiologics, designed to provide instruction and expert insights on how to properly use available biologics in treating musculoskeletal disorders.
21st Annual AAOS/AOSSM/AANA Sports Medicine Course
February 23 – 27, 2020
Park City, Utah
Participate – Engage – Ski – Learn
From professional athletes to weekend warriors, ensure your treatment decisions and solutions in your daily practice are current across all levels of athletic injury. Participate in case-based breakout discussions, interactive participant-expert panels and engaging dialogue with faculty for fresh learning approaches and multi-disciplinary solutions. Unparalleled sports medicine expertise, coupled with downtime for downhill – the 21st Annual Sports Medicine Course is sure to be an unforgettable learning adventure.
5th Annual Chicago Sports Summit
Tuesday September 29, 2020
Hyatt Regency Chicago Hotel
If you're interested in becoming a sponsor click the link below SPONSOR INQUIRY FORM or call Ann Pitcher:
Chicago Sports Summit 2020 Description- please add below the title in keeping with formatting of the other entries
Midwest Orthopaedics at Rush is proud to be the host of the annual Chicago Sports Summit, which brings together various experts in the fields of sports medicine, professional sports, sports business and marketing, andfitness and nutrition. The Summit supports the physical and educational development of Chicago-area youth through partnerships with local charities sharing the same vision, with a portion of the event proceeds donated to local organizations. Past recipients include Girls in the Game, a non-profit encouraging girls to discover their strengths and lead with confidence through fun and active sports, health and leadership programs; Big Green, which builds and facilitates learning gardens for students; Chicago Run, which promotes students'health and wellness through running; and sports medicine research at Midwest Orthopaedics at Rush. The Summit is a great opportunity to connect with some of the most topical names in Chicago sports, promote a product or service, and host VIP clients.
22nd Annual AAOS/AOSSM/AANA Sports Medicine Course
20th Annual AAOS/AOSSM/AANA Sports Medicine Course
You will need the Adobe Reader to view and print these documents.