[contact-form-7 404 "Not Found"]
3000

+


Patient Reviews

20,000

+


Surgeries performed

25


Years of Experience

2,000

+


lectures national &
international

1,000

+


articles & textbooks
Published
Real Patient Results

After multiple knee surgeries during high school and college athletics, my knees had taken a beating. Sophomore year of college, my body hit a point where working out became painful, hiking was imposs...

Lucy | August, 2019

Real Patient Results

I was thrilled that Dr. Cole was able to do my second ACL reconstruction. It is always scary putting your body, which is your career, at the hands of another. I had heard about Dr. Cole's expertise and knew he had done other professional athletes' knees...

Madeline Stammen | June, 2019

Real Patient Results

Just a short 6 months after her ACL reconstruction, Carolena Carstens, 2 time Olympian and ranked 8th in the world in Taekwando, won a remarkable match at the Roberto Duran Center in Panama 54-9 against her opponent earning the right to represent Panama ...

Carolena Carsten | June, 2019

Real Patient Results

Beginning in January of 2018 I began experiencing pain in the AC Joint of my left shoulder. I felt the pain the most when hitting forehands in tennis as well as performing activities with a straight arm. I first attempted to rehab my shoulder through two weeks of ...

Nic Meister | April, 2019

Real Patient Results

I am so thankful for the fantastic work Dr. Brian Cole has done over the past two years. I can't say enough about how lucky I am. After each of my last two injuries, Dr. Cole fixed and rebuilt my knee even stronger.

Micah Christian Hurd | March, 2019
Associate Chairman and Professor, Department of Orthopedics, Rush University Medical Center
Chairman of Surgery at Rush Oak Park Hospital
Section Head of the Cartilage Research and Restoration Center at Rush University Medical Center
several innovative techniques for the treatment of shoulder, elbow and knee conditions
Sports Medicine, Using Regenerative Medicine with Biologics and Cartilage Restoration Dr. Brian Cole is a nationally acclaimed orthopaedic surgeon, specializing in sports medicine for the knee, shoulder and elbow. Dr. Cole is honored to be named in the top 20 in sports medicine, knee and shoulder specialists repeatedly over the last 5 years as selected by his peers. His awards range from the "Best Doctors in America" since 2004 and "Top Doctor" in Chicagoland since 2003.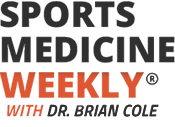 In the Spotlight
Spare The Scalpel: A Surgeon's Perspective on the Future of Orthopedic Medicine (A TEDx Talk)
Dr. Brian Cole from Midwest Orthopaedics at Rush discusses the evolution of orthopedic/sports medicine and the role of regenerative medicine and medical technology...past, present and future. Presented on April 30, 2016 at the TEDxRushU Event, Rush University Medical Center.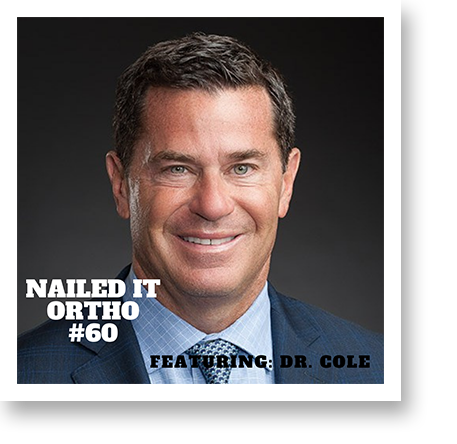 Leadership and Life Lessons with Dr. Brian Cole
Dr. Brian J. Cole discusses his background, lessons learned from sports growing up, qualities of a good mentor, traits of a leader, and steps you can take to become a better leader as a guest on the Nailed It Ortho Podcast. Available as Episode 60 on Apple Podcasts.
Concierge Care
for Out of Town Patients
Dr. Cole frequently treats patients traveling for care from within the United States and abroad.  The team at Midwest at Rush Orthopedics is happy to assist with travel recommendations for you and your loves ones to optimize your patient experience while visiting Chicago.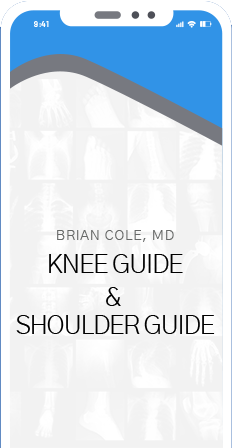 Download our app
A Personalized Injury App to Help Get You Back in the Game
The Brian Cole MD Knee Guide and Shoulder Guide are your own personalized injury APP's for your pocket. These APP's provide users with detailed information, treatment and identification of the most common injuries.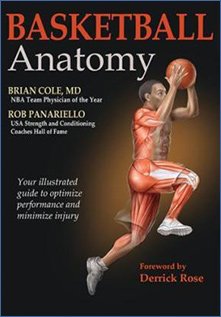 "Basketball Anatomy is one of the few books that captures the beauty and athleticism of our sport. Dr. Brian Cole understands what players go through to perform at their best. It's a book I recommend."
Scottie Pippen Six-Time NBA Champion Naismith Memorial Basketball Hall of Fame
1611 W. Harrison Street
Suite 400
Chicago, IL 60612

610 S. Maple Ave
Suite 1550
Oak Park, IL 60304

Complimentary valet parking

2011 York Road
Suite 1500
Oak Brook, IL 60523

(708) 409-5179

Complimentary valet parking